Hi I am Denisio as you know Crimson Order Of The Knights will come out soon its a branch guild to Crimson Tide. I Just wanted to let people know I will have my own rules though if Mike lets me Like for example
Rule #1Officers are people I trust. If I don't trust you you won't be an officer so don't try this rule will be in place because of a certain someone(DarkVeto aka Ultimate).
Rule #2 you have to be kind to guild members and back them up when they need it. If you have problems with someone in the guild tell an online officer or me, We will help.
Rule #3 Officers may not kick anyone without my permission if you do you will be taken out of your position.
Rule #4 officers CANNOT make strangers officers. If you do I will take you out of the guild and haunt your life with the help of Mike. If you plan to take down this branch guild or the main guild the same thing will happen to you if you break rule #4.
Rule #5 if we go to war everyone must start farming for levels. If your level 65 then help the low leveled people level up.
Each and every weekly event that happens will be like a holiday for us we all participate unless you don't want to. Same thing with Brawls we will have them every sunday. I will make google forms for this guild when finished for complaints or some Ideas for this branch guild.
Also Inactivity for a week is not welcomed in this guild if you want to stay be active. One more thing everyone in this branch guild has to have this image as their profile pic on Main guilds website also this is the oath you must take. I will post the pictures for it have a good day.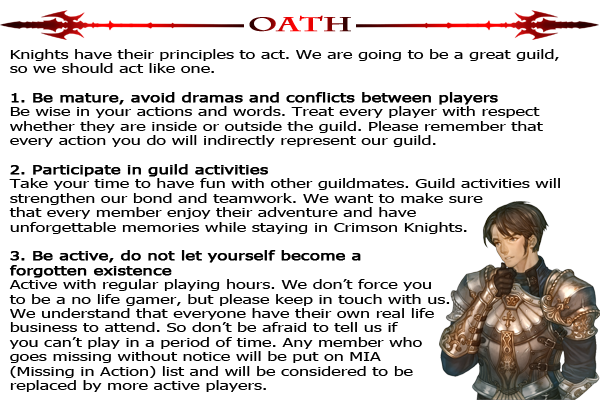 Last edited by Denisio1560 on Mon Mar 21, 2016 9:44 pm; edited 2 times in total